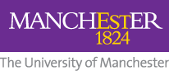 Home
Directorate of Estates and Facilities
Cycle Registration Scheme
The University offers a free overt bike marking service for all students and staff.
A unique serial number is 'etched' onto the frame in a highly visible location. The owner/cycle details are recorded and entered onto a University database to enable our security officers to check bikes.
The relevant information is also entered onto the national property database Immobilise. The Police check this database when they come into possession of stolen/recovered property.
You can also register other personal property that has a serial number, like mobile phone, laptop etc.
Subsidised Lock Scheme
Any University of Manchester student or staff member can take advantage of this great offer.
We have launched a bike lock security initiative to reduce the number of bikes stolen on campus. A gold standard 'D' lock will be on offer for £15 to students and staff at the University.
All you have to do to qualify for a discounted lock is register your bike for free on the University scheme. For details of registration events see this site or Crime Reduction Facebook page
PLEASE NOTE - The completion of the online registration form merely records the relevant information, your bike still needs to have the additional overt serial number marked onto the frame at one of the Bike Registration events to qualify for the discounted lock.
Cycle Registration Form
Cycle Crime Advice from the Police
University Store